Cosmetic Dentistry
Treatment Method Conducted at Our Clinic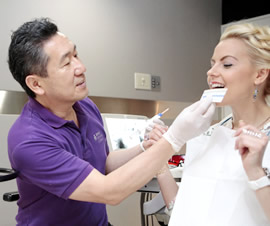 Smiling in front of people not only is embarrassing when the color of your teeth changes or you have horrible teeth alignment but can cause mental stress. Dental aesthetic is the correction of the color of the teeth to that of natural white and the reconstruction of gapped or misaligned teeth, and/or chipped and thinned teeth. Our clinic utilizes metal free all ceramic crown so your gums won't blacken either. We also whiten the teeth to that of natural color so that your teeth do not seem awkward but instead healthy to allow for a confident and true smile.
Amalgam filling material contains mercury compounds and are hazardous to the human body. Amalgam causes the steaming of mercury and accumulation within the body which will lead to life-style related diseases and promote aging through reactive oxygen species. By removing the amalgam, which is an aging promotional material and utilizing materials like ceramics that are kind to the body, you can obtain a healthier body by anti-aging medicine that will improve the function of the body.
Cavity Treatment by Utilizing Ceramics
Treatment that uses metals attract attention to the problem area by the obvious color of the shining, metal fillings. However, when utilizing ceramics for the treatment allows for a natural appearing finish which can be adjusted to your tooth color. Also, the metal free treatment results with stronger, stable treatment that is lightweight and excellent for bio-compatibility. Therefore, we can limit the burden on the teeth and the body to the absolute minimal.